External Panel System
Fireproof Zinc Panel Fire resistance for 1 hour
Zinc Panel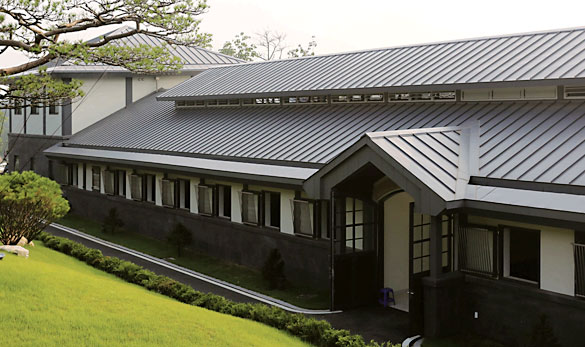 In addition to excellent fire safety, SY fireproof zinc panel boasts, excellent insulation performance, sound absorption effect, and excellent durability. Serving as a point of modern sense, the projecting design of the joint itself can be applied in the form of various exterior wall shapes.
Features of Product

Fire safety
(1 hour of fire resistance recognized)

Aesthetics

Corrosion resistance

Thermal insulation
Product Information
Product Image
Features of Product

Fire safety (1 hour of fire resistance recognized)

In case of fire, damage can be reduced to a minimum by using glass wool, a non-combustible material, as the inner heartwood.

Corrosion resistance

Since it is an inorganic product, there is little shape change or corrosion even after a long period of time, and it is made of glass fiber with strong restoring force and tensile force, exhibiting excellent durability against shock, pressure and vibration.

Aesthetics

Various patterns with excellent processability can express the beautiful appearance of buildings.

Thermal insulation

Composed of thin and uniform glass fiber, it has low thermal conductivity, excellent insulation and thermal insulation effect.

Specification

| Heartwood | Surface material | End | Central part | Plate thickness | Fire resistance |
| --- | --- | --- | --- | --- | --- |
| Glass wool insulation plate (thickness 124mm, density 64kg/㎥ or more) | Hot-dip galvanized steel sheet (thickness 0.5mm or more) | Diameter 4.0mm direct connection piece (space 200mm or less) | Diameter 6mm self-screw bolt (space 1,000mm or less) | 125mm or more | 1 hour |

As the details of refractory structure are required to be referenced, be sure to consult with sales department for details.
Fireproof Zinc Panel
Inquiries